Atollic TrueSTUDIO for ARM
Atollic TrueSTUDIO for ARM
Price:
Contact us at sales@glyn.com.au for pricing and available options.
Availability:
Usually ships in 24 hours.
---
Product Description
Atollic® TrueSTUDIO® is the premier C/C++ development tool for professional ARM® developers, reducing time to market and increasing efficiency in your next embedded systems project. With Atollic TrueSTUDIO, you get a supremely powerful C/C++ compiler and debugger IDE, perfect for the most demanding of development projects!
Atollic TrueSTUDIO is based on one of the most widely used compilers in the world, thus providing proven and reliable code generation, compact code and high performance for ARM7™, ARM9™ and ARM Cortex™ projects, including multiprocessor and dual-core projects. Atollic TrueSTUDIO conforms to open de-facto standards, such as the ECLIPSE™ IDE framework and the GNU toolchain, vastly reducing training and porting costs across teams and projects.
Documentation

Atollic Product Brochure
For more details on Atollic TrueSTUDIO for ARM, check out Atollic's website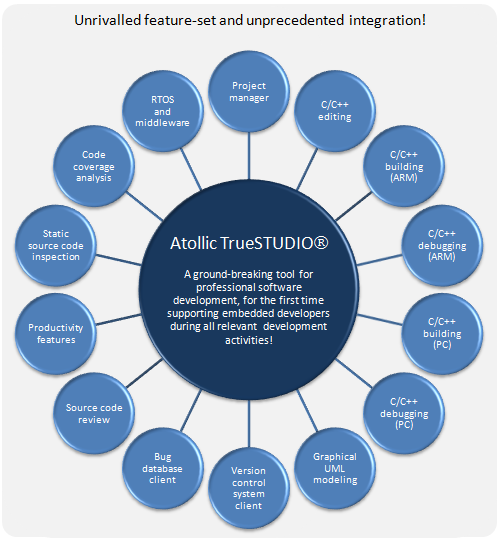 ---
Find Similar Products by Tag
---
Find Similar Products by Category
---
Customers Who Viewed This Product Also Viewed